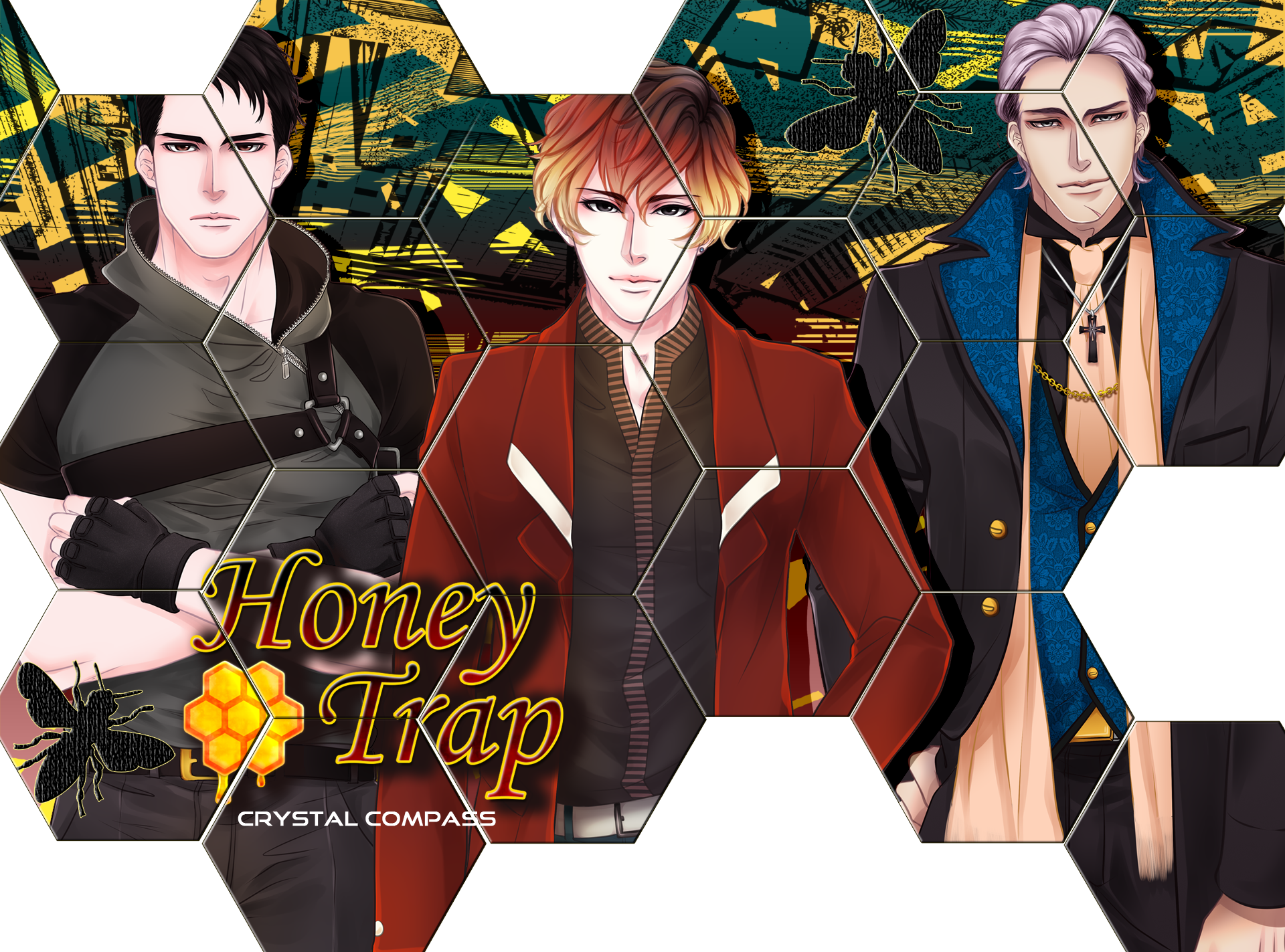 Honey Trap
A downloadable game for Windows, macOS, and Linux
Honey Trap Version 2.2 is a submission to the visual novel jam, NaNoRenO 2019. The build available for download is the beta demo of the game. An updated version of the demo is currently in development. Please see the dev logs for more information.
Feedback would be highly appreciated and can be provided here via the Honey Trap testing form.

KIKYO Agency deals with all underground happenings and individuals. Naturally, there are some clients that want dirt on people they want snuffed out. There's no easier way to slide in between a prey's defenses more than playing with their carnal desires. Honey Trap Agents are devilish spiders ready to sink their fangs into the next target—but what happens when they pick on something bigger than they can chew?
Agent Kazuto founds out more than he bargained for when he takes on a mission that leads him down a path he might not make it out of. With his past suddenly resurfacing and his current relationships at stake, there's only so much he can do before his luck runs out.
Genres: Mystery, Crime, Action, Romance (BxB)
Rating: Mature
Warnings: Explicit language and sexual content, depictions or mentions of violence, murder, suicide, alcohol, and substance abuse. The game includes shaking screens, so please be advised.


Game Resolution: 1920 x 1080
Two Routes with choices that affect the dialogue and story
R18 Scenes & Illustrations
20,000+ Words (Demo Version)


Kazuto
Occupation: Honey Trap Agent
Personality: Playful, Flirtatious, Snarky
Likes: Sex, Drinking, Sweets, Hand-to-hand Combat (favors his combat knife)
Dislikes: Commitment, Smokers, Being Coddled
Our sassy protagonist who's been through hell and back. Don't let his appearance and personality fool you, he's a highly-trained agent that can take down men twice his size without breaking a sweat.

Jay
Personality: Reserved, Protective, Strict, Blunt
Likes: Cats, Reading, Training
Dislikes: Stakeout Missions, Loud People/Places
As Kazuto's partner and bodyguard he can be a bit overprotective, but he's truly dedicated to his work. He's the cool silent type, but underneath that he really cares for Kazuto.

Lucas Mendoza
Alias: The Silver-Eyed King
Occupation: Drug lord, Mob Boss
Personality: Calculating, Observant, Charismatic
Likes: Drinking, Gambling, Socializing
Dislikes: Disobedience (but likes a challenge), Unnecessary Violence
A naturally charismatic man who is respected and feared by many. He's a major romantic that instinctively pampers the one he loves, but only after they've gained his trust.

Depending on the player's choices, you can raise or drop the following:
Some choices will raise more points for one stat over another (i.e. one option may have +3 Affection and +1 Lust and vice versa for another choice). Certain scenes will only unlock if the player has accumulated enough points, so be sure to choose wisely or replay for more variety!

Directing, Writing, Editing, Narrative Design, Programming: Wes

Character Art & Design: MizuYukiiro

Assistive Programming, Editing: Ende
Editing: Renkka
Logo Art: KotoriWorks

Background Art: Green Stars, Mao Space, GuttariNyanko, Moonwind (moonwind.pw)

Music: Eric Matyas (soundimage.org)

Sound Effects: Zapsplat, THE_bizniss, flag2
Please let us know your thoughts on the game!
| | |
| --- | --- |
| Updated | 29 days ago |
| Status | In development |
| Platforms | Windows, macOS, Linux |
| Release date | Mar 31, 2019 |
| Rating | |
| Author | Crystal Compass |
| Genre | Visual Novel, Action, Interactive Fiction |
| Made with | Ren'Py |
| Tags | bl, Crime, Gay, LGBT, Mystery, Romance, Yaoi |
| Average session | A few hours |
| Languages | English |
| Inputs | Keyboard, Mouse |
| Links | Twitter |
Download
Click download now to get access to the following files:
Comments
Log in with itch.io to leave a comment.
damn thats an uncool place to stop the demo ahhhhh!!
love the demo thought
is it still continuing ?
If so whens the full release ?
If theres a accurate date .
Hello,
Yes, Honey Trap is still in development! The team is working hard on projects including this one, please look forward to a dev log in early/mid September!
The full release date is tentative, but we're striving for some time in late 2020.
Do you have an idea of the price of the full game, when it will be released?
Hello, thank you for playing the demo and showing interest in the game!
We estimate that the price will be about $15, but it is subject to change depending on the production costs.
The projected release date for the full game is in late 2020, but we are currently focusing on the updated demo in the meantime.

Just found this today and so far i ust love this demo and <3 <3 <3 cant wait for the full game! <3
Hello, we're so glad to hear that you enjoyed it! The team is working hard on an updated version of the demo, so please stay tuned!
I just played it and answered the survey. I really like the characters and storyline for now, and I hope to see more updates from this game! Good luck on your project!
Hello, thank you very much for filling out the survey! We're really glad to hear that you enjoyed the game, please stay tuned for more updates!
I already completed the survey, but I can't stress this enough: find better background images, especially if you want to put this game on Kickstarter. Those pictures are very low quality and commonly used in cheap mobile games. Not a good look at all
since it was a free game i can understand this. i do agree though.
Hello, thank you for leaving your feedback.
Due to time restraints and the budget during NaNoRenO, I had to find specific backgrounds for free that matched the setting, but they were unfortunately low quality. However, the latest build that I'm working on has updated backgrounds that are much higher quality. Please look forward to the dev log that will have detailed descriptions on the updated game build.
- Wes