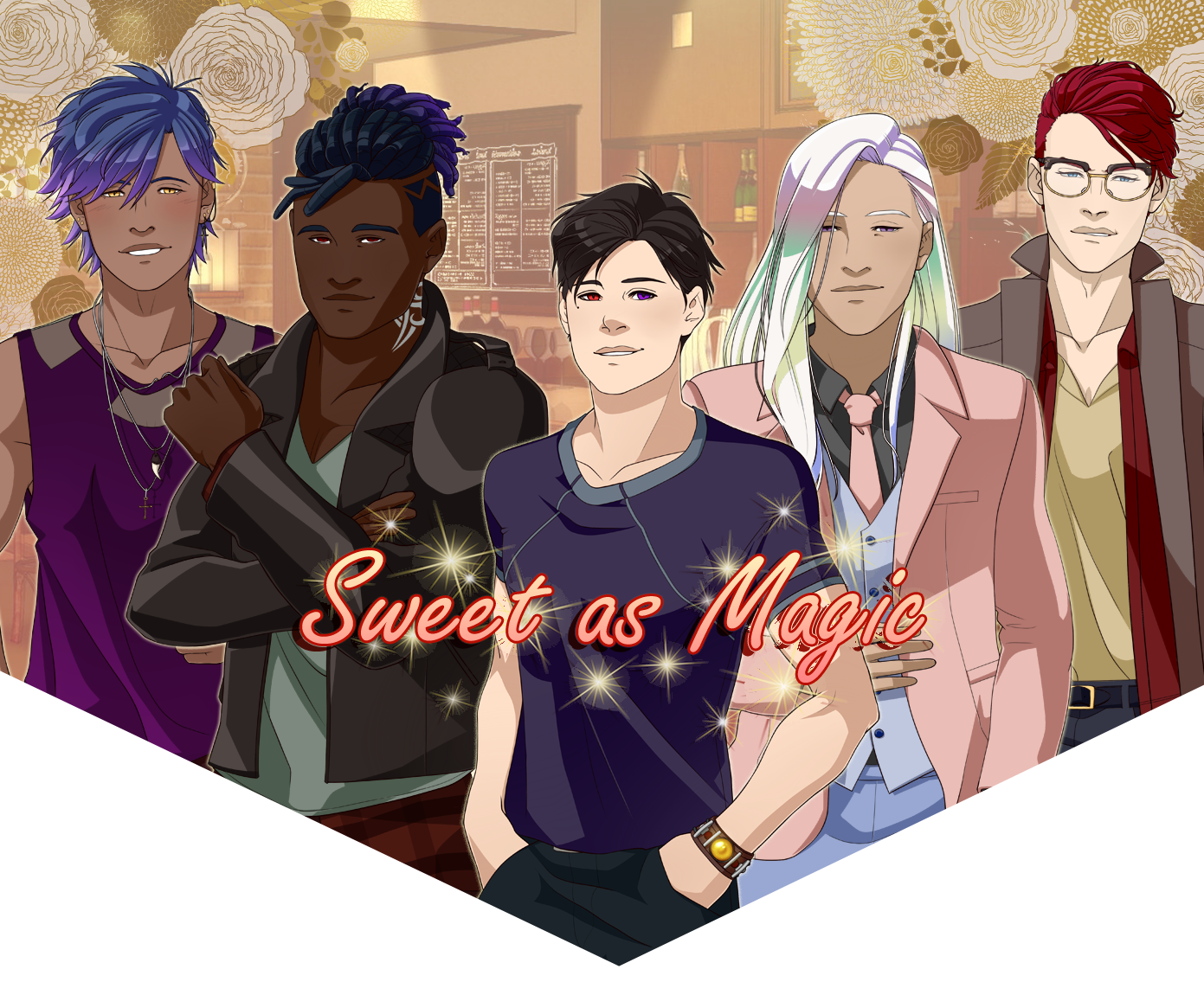 Sweet as Magic
A downloadable game for Windows and macOS
Sweet as Magic is Crystal Compass' third LGBT visual novel. The current version available is a beta demo and is on hiatus. Updates regarding the development will be posted accordingly.
Feedback would be highly appreciated and linked below is the survey that you can fill out upon completing the game. Thank you for showing interest and playing our game!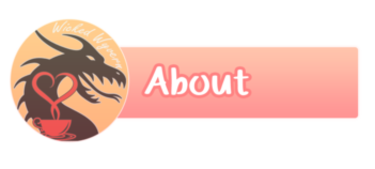 Ryuu belongs to a rare class of mixed breeds, his father being a warlock and his mother being a dragon. All he wishes for is to live his life out peacefully as a humble cafe owner, but his restaurant is struggling with bills due to its lack in popularity.
He needs to work fast in order to keep his dream job afloat, and his golden opportunity seems to appear out of nowhere in the form of four, unique men that stumble into his life. However, he'll find himself in a situation where he's never been before—falling in love was never part of his life-long plan, but fate says otherwise.

Genres: Fantasy, Romance, Slice-of-Life, Friendship, Comedy, Drama

Rating: T

Warnings: Language, mild sexual content, some depictions of violence. The game also features shaking and flashing screens.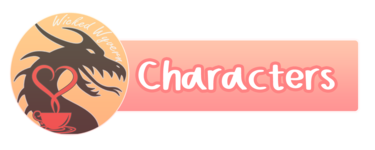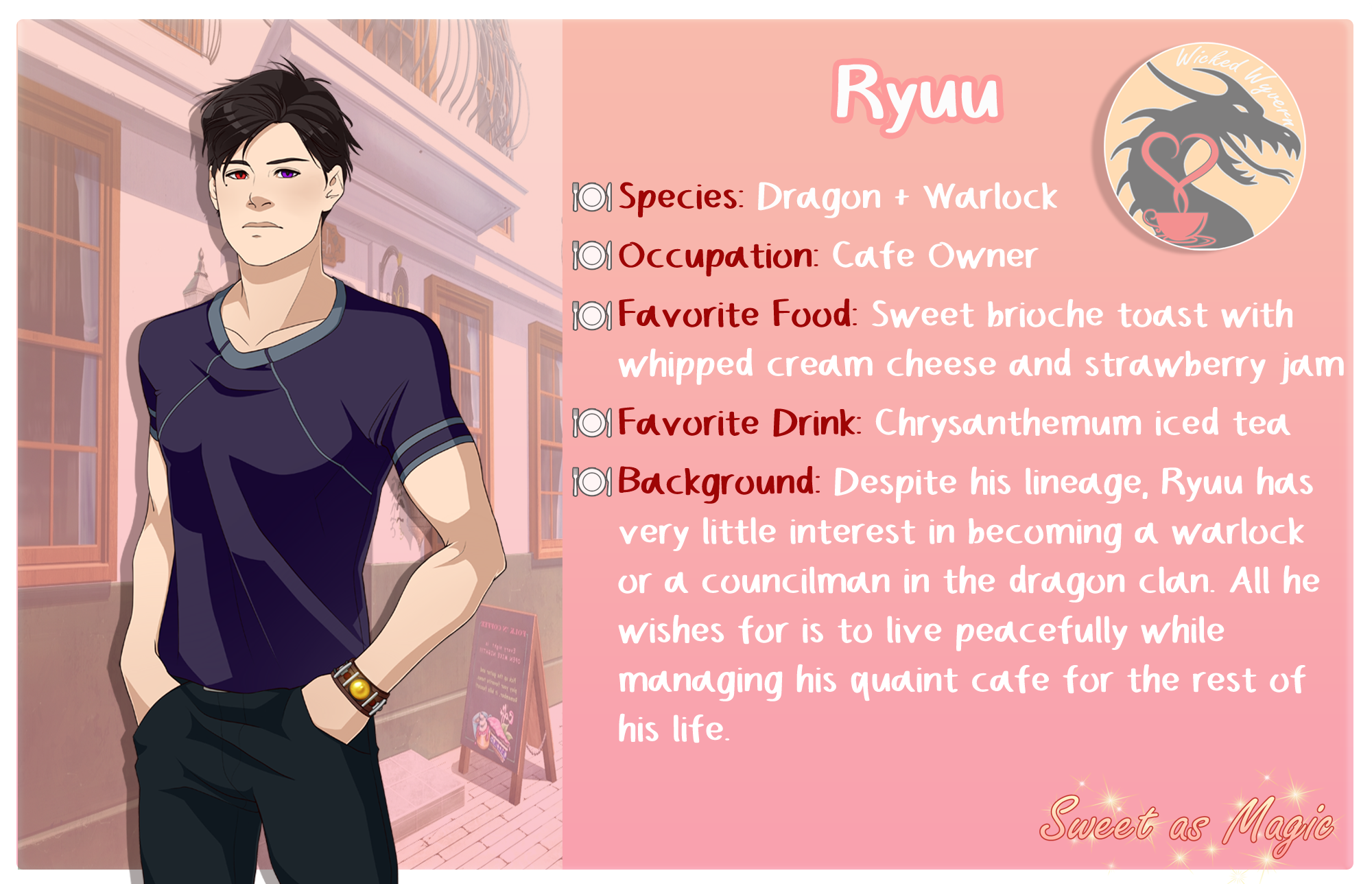 Ryuu
Age (Appearance-wise): 23
Height: 5'10"
Species: Mixed (Dragon + Warlock)
Occupation: Cafe Owner
Favorite Food: Sweet brioche toast with whipped cream cheese and strawberry jam
Favorite Drink: Chrysanthemum iced tea
Background: Despite his lineage, Ryuu has very little interest in becoming a warlock or a councilman in the dragon clan. All he wishes for is to live peacefully while managing his quaint cafe for the rest of his life.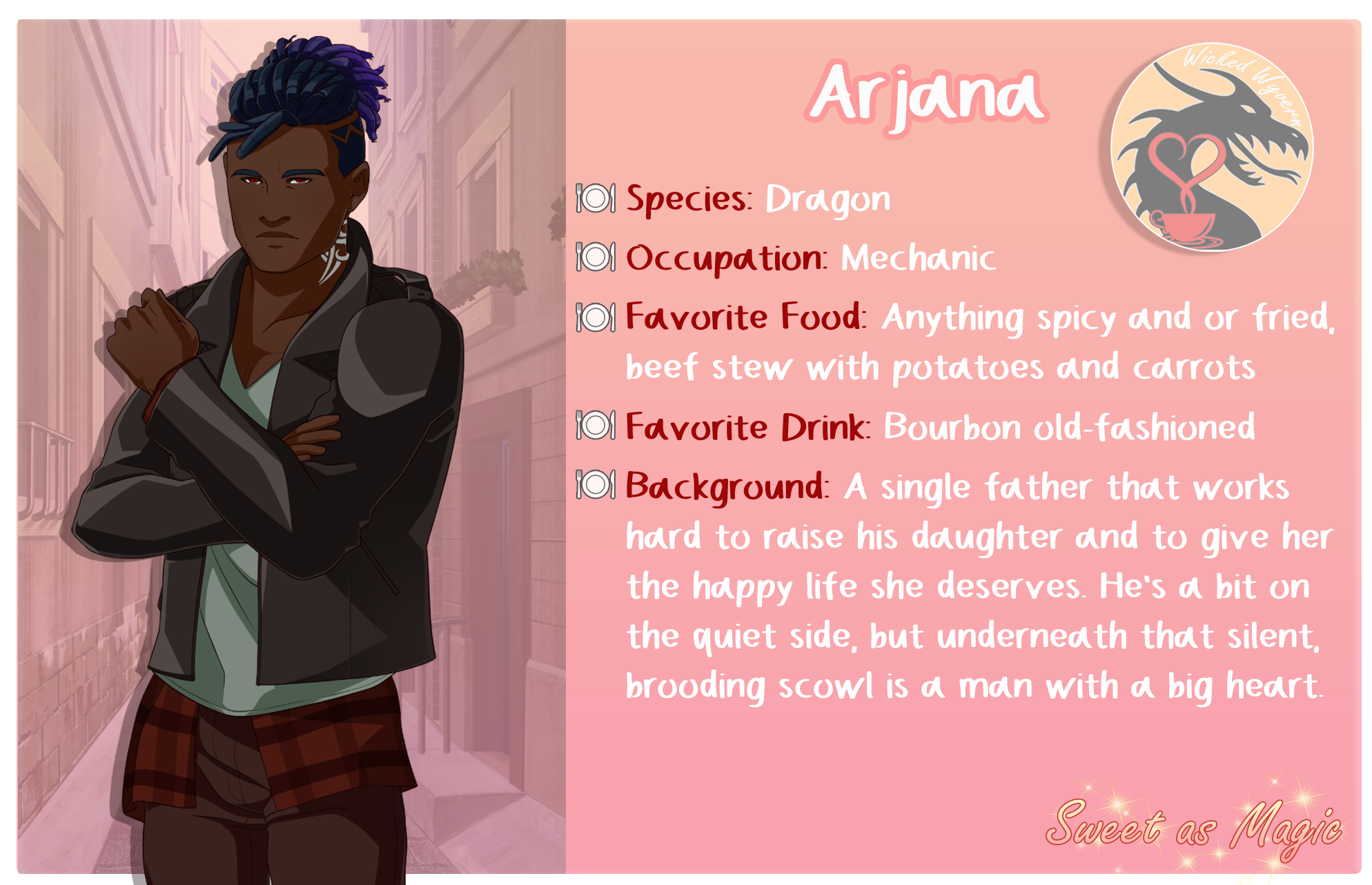 Arjana
Age (Appearance-wise): 30
Height: 6'0"
Species: Dragon
Occupation: Mechanic
Favorite Food: Anything spicy and or fried, beef stew with potatoes and carrots
Favorite Drink: Bourbon old-fashioned
Background: A single father that works hard to raise his daughter and to give her the happy life she deserves. He's a bit on the quiet side, but underneath that silent, brooding scowl is a man with a big heart.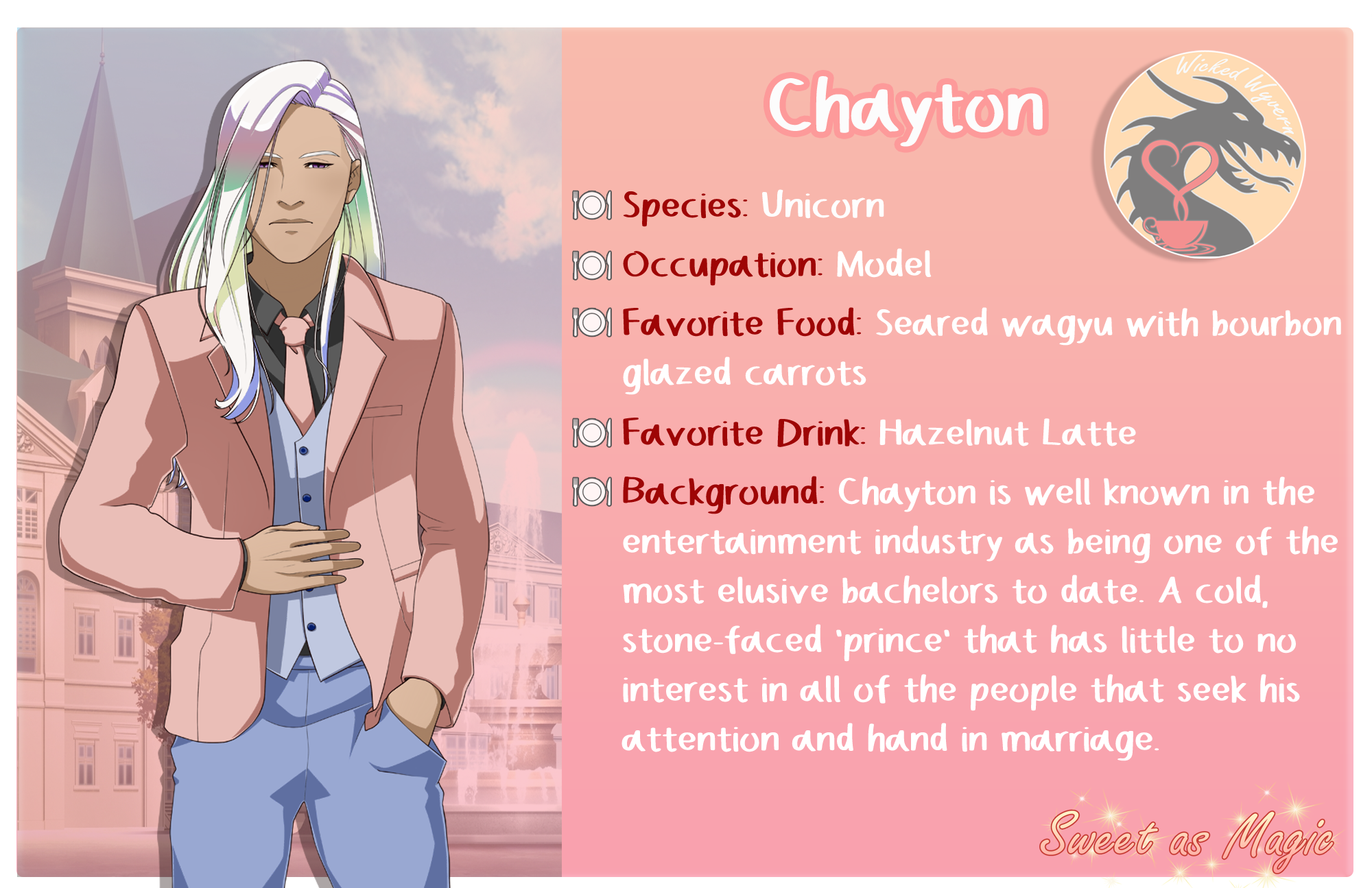 Chayton
Age (Appearance-wise): 25
Height: 6'1"
Species: Unicorn
Occupation: Model
Favorite Food: Seared wagyu with bourbon glazed carrots
Favorite Drink: Hazelnut Latte
Background: Chayton is well known in the entertainment industry as being one of the most elusive bachelors to date. A cold, stone-faced 'prince' that has little to no interest in all of the people that seek his attention and hand in marriage.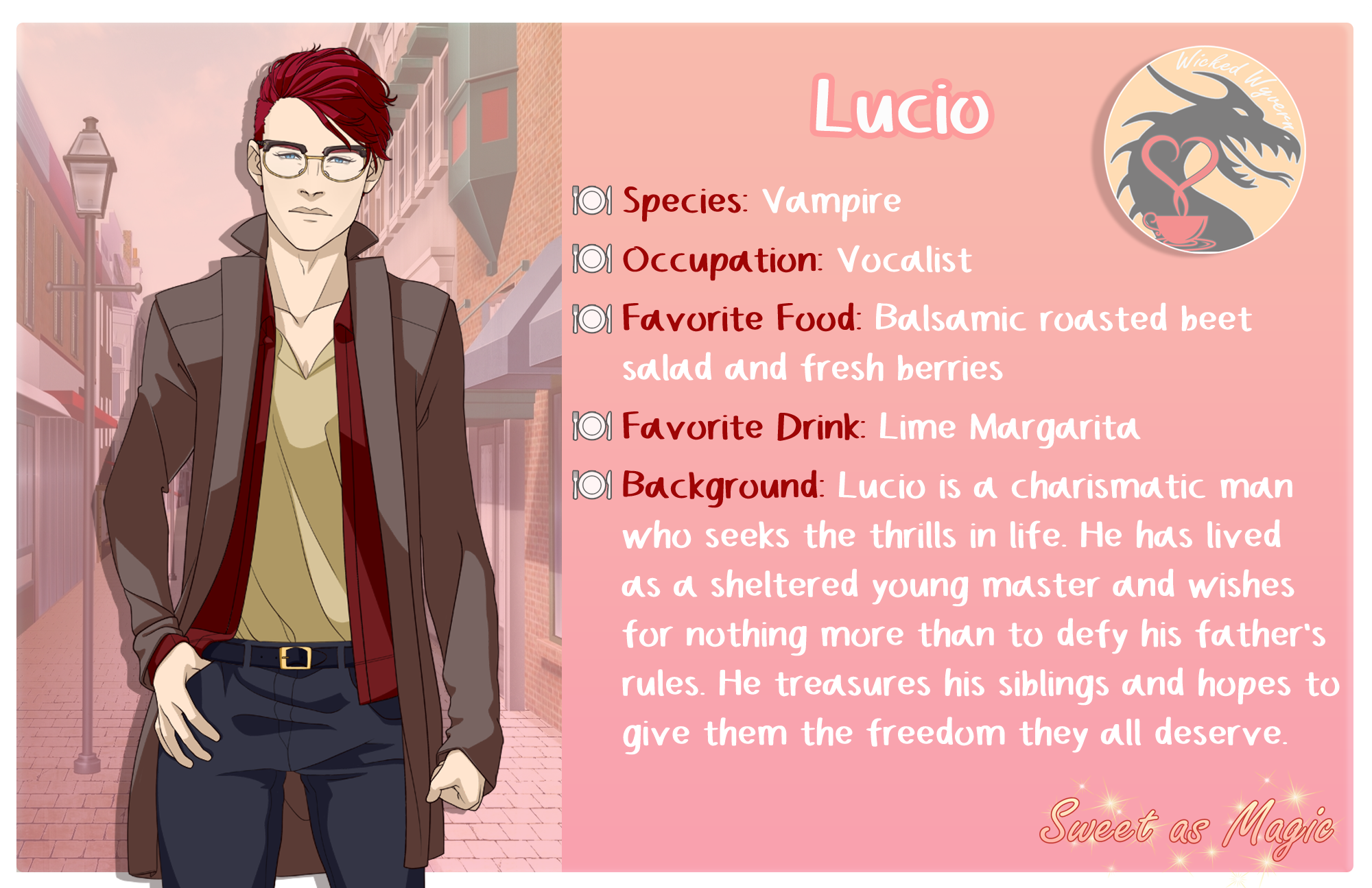 Lucio
Age (Appearance-wise): 27
Height: 5'11"
Species: Vampire
Occupation: Vocalist
Favorite Food: Balsamic roasted beet salad and fresh berries
Favorite Drink: Lime Margarita
Background: Lucio is a charismatic man who seeks the thrills in life. He has lived as a sheltered young master for all his life and wishes for nothing more than to defy his father's rules. He treasures his siblings and hopes to give them all the freedom they deserve.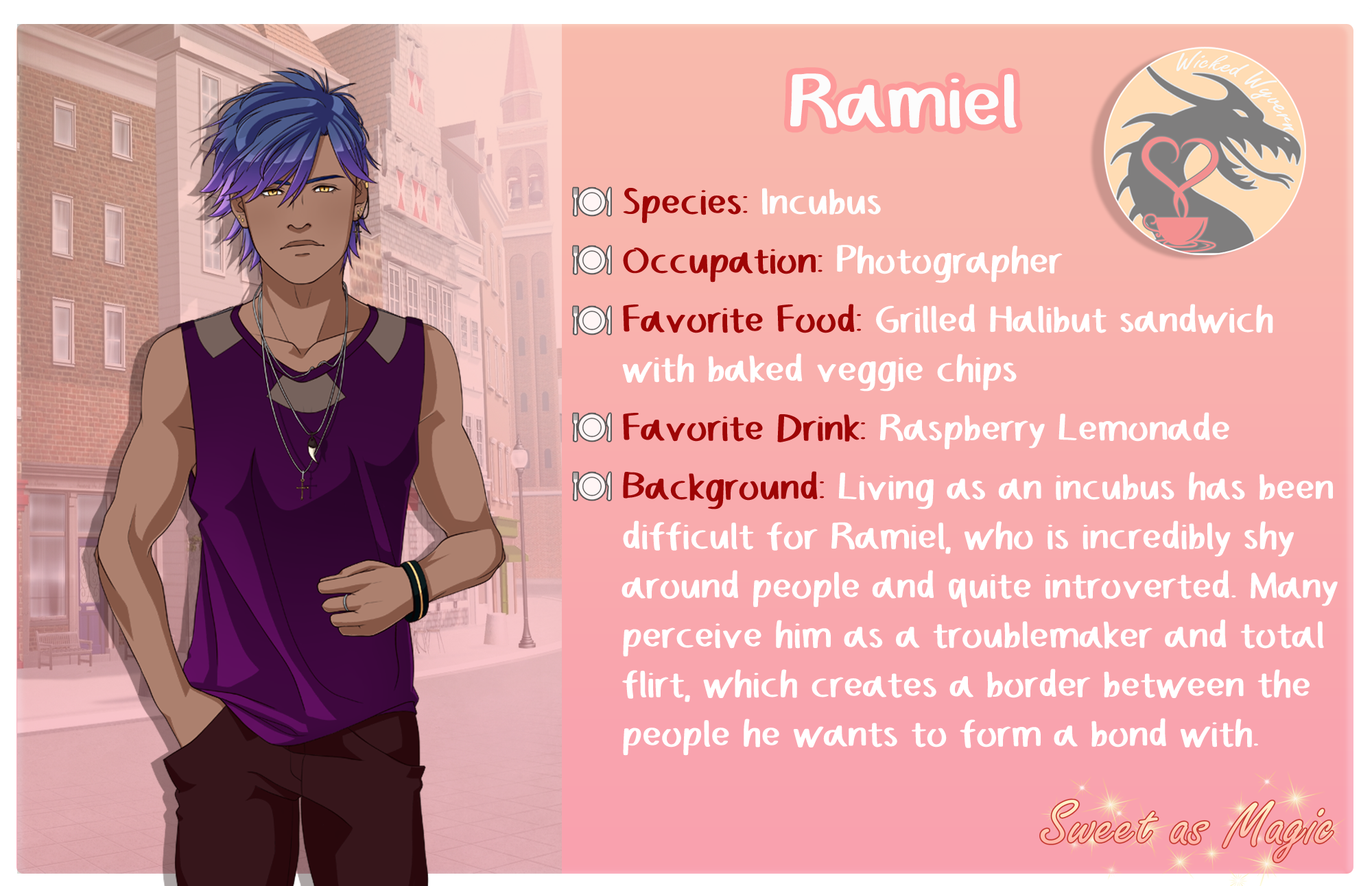 Ramiel
Age (Appearance-wise): 21
Height: 5'9"
Species: Incubus
Occupation: Photographer
Favorite Food: Grilled Halibut sandwich with baked veggie chips
Favorite Drink: Raspberry Lemonade
Background: Living as an incubus has been difficult for Ramiel, who is incredibly shy around people and quite introverted. Many perceive him wrongly as a troublemaker and total flirt, which creates a border between the people he wants to form a bond with.
Minor Characters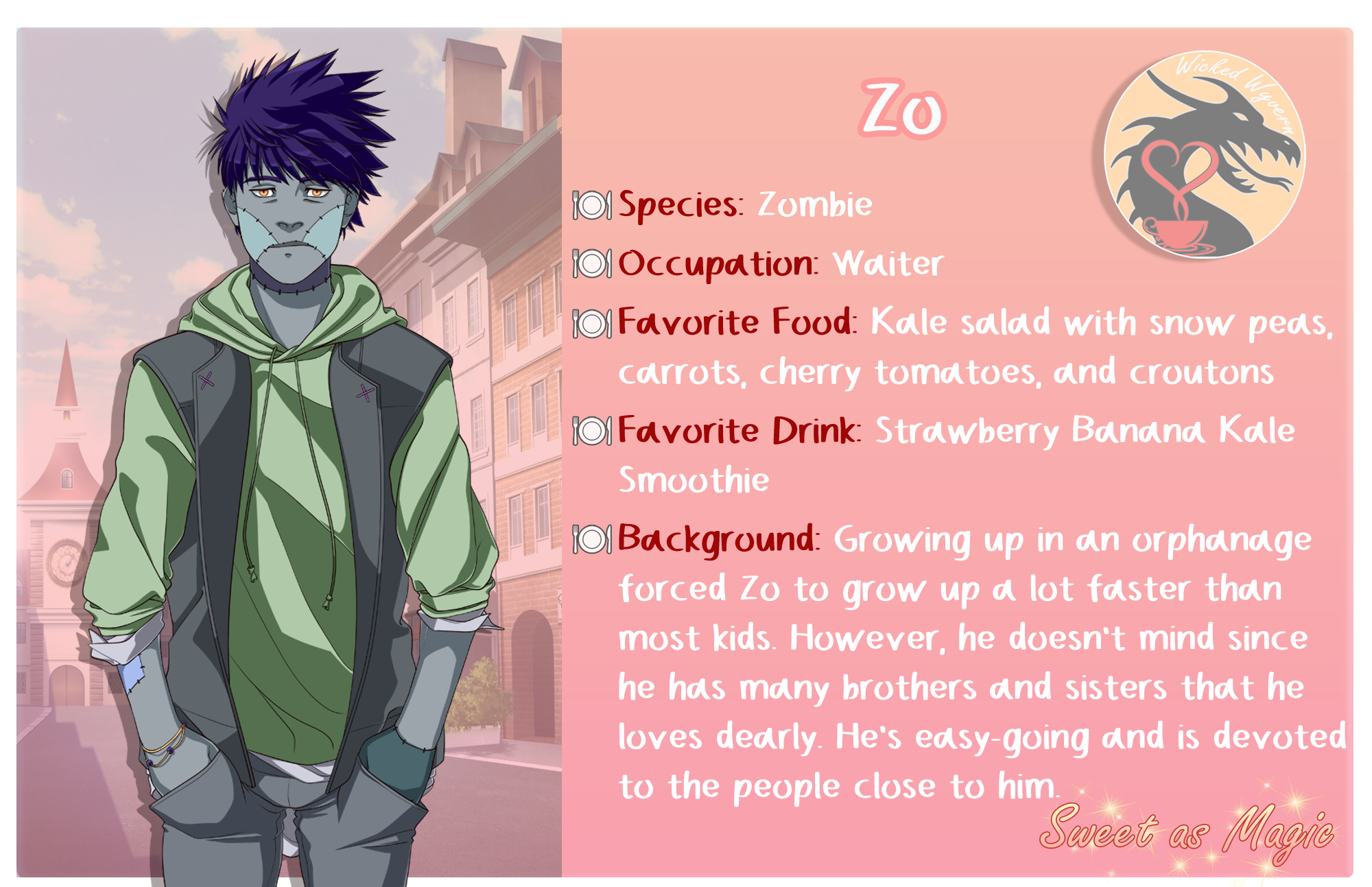 Zo
Age (Appearance-wise): 23
Height: 5'9"
Species: Zombie
Occupation: Waiter
Favorite Food: Kale salad with snow peas, carrots, cherry tomatoes, and croutons
Favorite Drink: Strawberry Banana Kale Smoothie
Background: Growing up in an orphanage forced Zo to grow up a lot faster than most kids. However, he doesn't mind since he has many brothers and sisters that he loves dearly who are just like him. He's easy-going and incredibly devoted to the people close to him. Ryuu and him have been friends for quite some time, so he's always there when Ryuu needs him.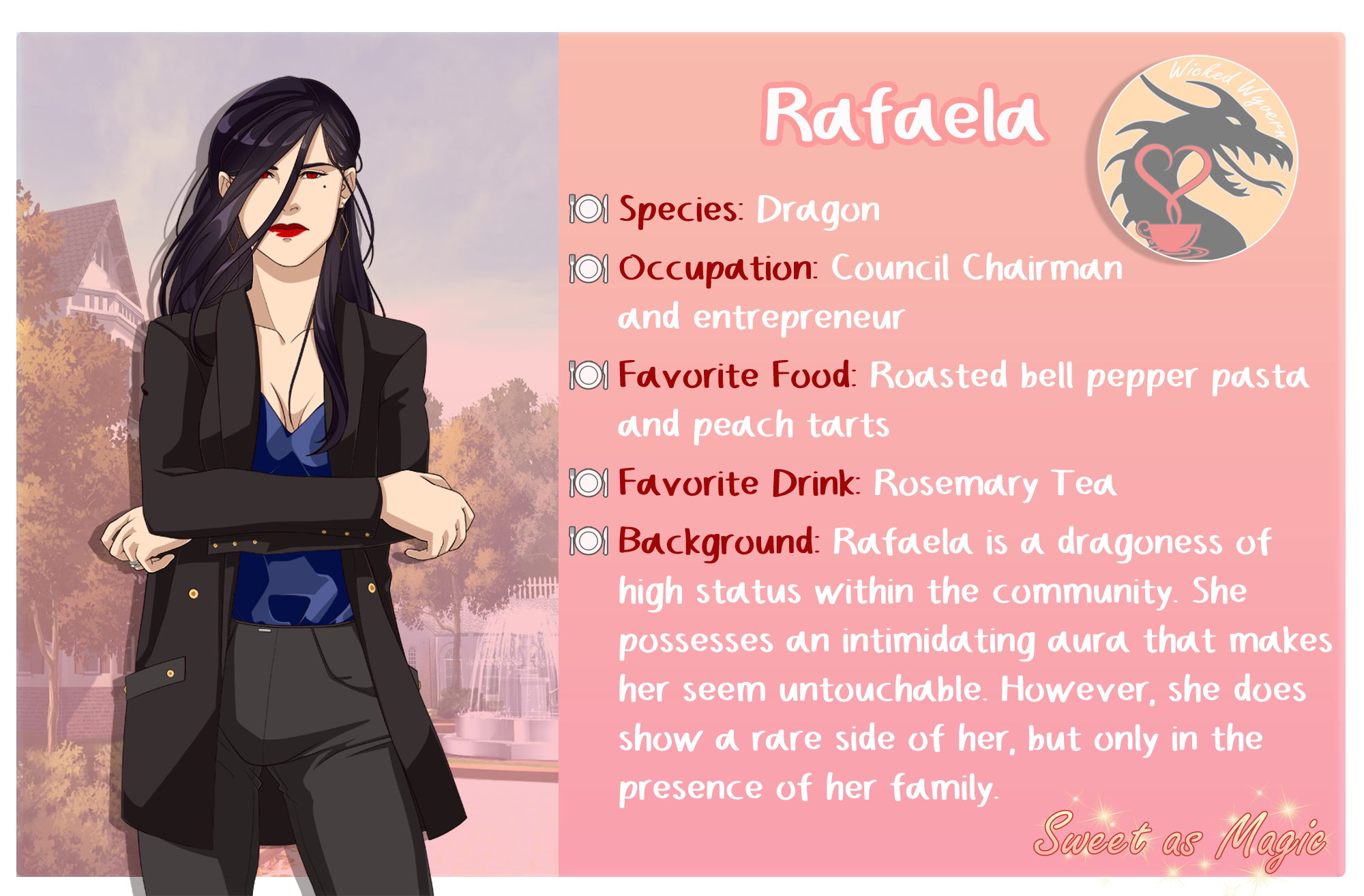 Rafaela
Age (Appearance-wise): 40
Height: 5'11"
Species: Dragon
Occupation: Council Chairman and entrepreneur
Favorite Food: Roasted bell pepper pasta and peach tarts
Favorite Drink: Rosemary Tea
Background: Rafaela is Ryuu's mother and a dragoness of high status within the clan and community. She possesses an intimidating aura that makes her seem untouchable, and it has given her an advantage in the tense environment of the dragon council. However, she does show a rare, kinder side of her—but only in the presence of her family.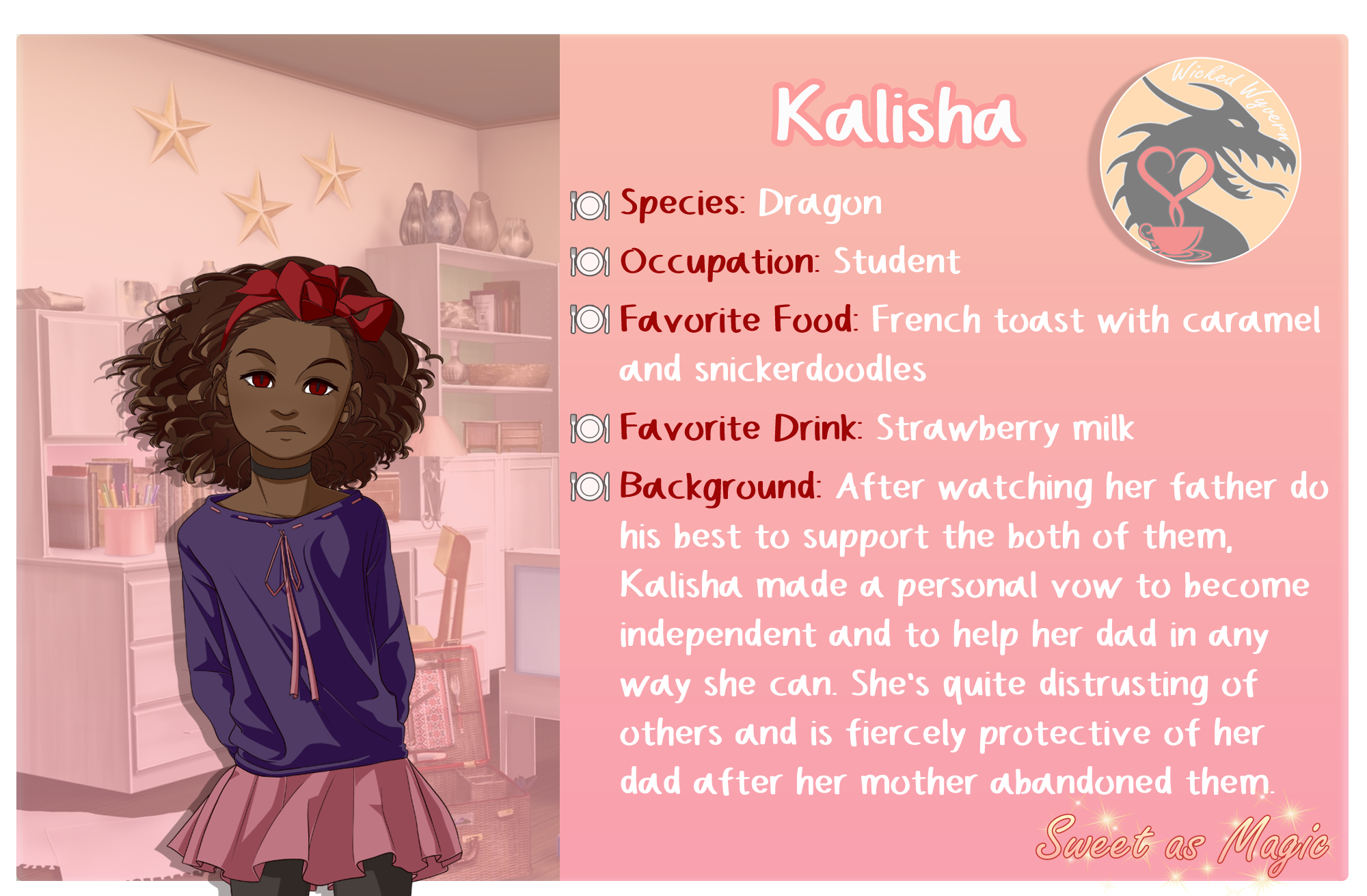 Kalisha
Age (Appearance-wise): 8
Height: 3'6"
Species: Dragon
Occupation: Student
Favorite Food: French toast with caramel and snickerdoodles
Favorite Drink: Strawberry milk
Background: After watching her father do his best to support the both of them, Kalisha made a personal vow to become independent and to help her dad in any way she can. She's quite distrusting of others and is fiercely protective of her dad after her mother abandoned them both.
...and many more!

Rozalia City (Modern Day): Capital of the Monster Metropolis

The Wicked Wyvern
Ryuu's restaurant, which serves as a quaint cafe during the day and a bar at night.

Ruby Manor
Lucio's family estate where he lives with his father, mother, and five siblings.

Mystic Park
One of the largest public parks in Rozalia City, known for its beautiful arched bridges and crystal-clear streams.

The Quarter
A massive plaza and shopping area that is constantly bustling with life.

...and many more!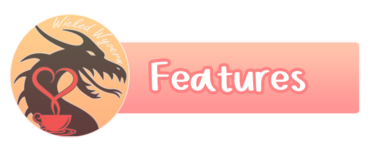 Game Resolution: 1920 x 1080
1 - 1.5 Hours of Gameplay (2+ Hours for Full Ver. ONLY)
Original Character Art
20,000+ words of content (25,000+ words for Full Ver. ONLY)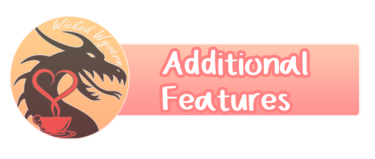 A mini-game involving cooking/drink-mixing (In-development/Planned for the updated demo)
Magical Species Glossary (In-development/Planned for the updated demo)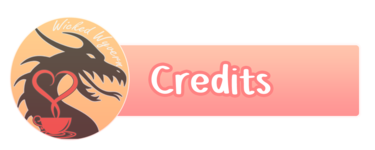 Directing, Writing, Narrative Design, Character Concept, Art Assets, Assistive Programming: Wes
Assistive Directing, Writing, Editing, Narrative Design: Renkka
Character Art & Design: Remnantation

Programming, Editing, Animation, Misc. Art Assets: Ende

Background Art: Minikle
Music: Fesliyan Studios, Patrick de Arteaga, Shane Ivers (https://www.silvermansound.com/free-music), ZapSplat, David-Gwyn Jones

SFX: shall555, http://freesound.org/, dersuperanton, Srehpog, CGEffex, ZapSplat
Video Editing/Trailer: KotoriWorks
Quality Assurance: Ende, Renkka, Wes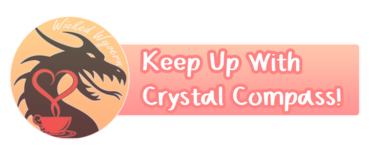 Download
Click download now to get access to the following files:
SweetasMagic-1.3-pc.zip
153 MB
SweetasMagic-1.3-mac.zip
135 MB